During the summer holidays, in addition to the quite attractive markets, medieval festivals are regularly organized. When attending you feel like you have been catapulted back in time a 1000 years. 
If you are more adventurous, you can certainly indulge yourself in the climbing tree park Parc-en-ciel in Lacapelle-Biron (35 km) or the comparable Cap Nature in Pradines near Cahors (33 km). It can be even more adventurous at Kalapca Loisirs in Cabrerets, where you can try out canyoning and many other adventurous and sports activities. Attention: it is always best to inform about availabilities in advance.
The Walibi Aquitaine amusement park in Agen (Roquefort) is also only a good 50 km away. A real amusement park good for a whole day of fun. 
And if that's not enough, you can of course still visit the beautiful monkey park La Forêt des Singes or the equally beautiful bird of prey park with its spectacular bird of prey shows Le Rocher des Aigles, both in Rocamadour (approx. 90 km). Rocamadour itself is counted among the most beautiful villages in France.
Horse riding
A few villages further along, in Lacapelle-Cabanac, less than 10 km from Monplaisir, is a horse farm where you can go horse riding. An alternative way to explore a part of the region!
Tennis
As a guest of Monplaisir you can play tennis for free on the tennis court of Saint-Matré. Don't forget you tennis rackets and balls at home.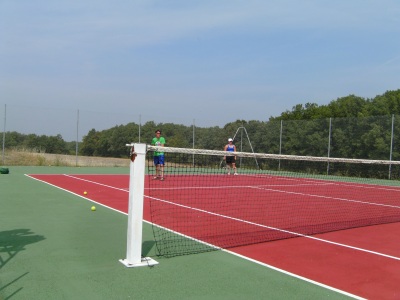 Fishing
The Lot is a slow-flowing river known for its super-sized carp and catfish. Night fishing is allowed all year round on the Lot near Saint-Matré (Touzac, Puy l'Evêque, Duravel …). In the river you can fish for carp, catfish, barbel, bream, chub, pike, zander, trout and eel. 
You can also go trout fishing in the Ruisseau de Saint-Matré (the watercourse of Saint-Matré) between St Jean-de-Grézels and Grézels, less than 10 km from Monplaisir. You can also fish carp or trout in the fishing ponds of the Moulin de Guiral in St Martin-le-Redon. St Martin-le-Redon is a very nice village on the way to Bonaguil.
Canoeing and kayaking
Kayaking or canoeing can be done in various places, both on the Lot and, for example, on the lake of Montaigu. The Lot is a slow-flowing river, so it is also suitable for smaller children. Wild water enthusiasts will find themselves better served on the Célé.
Golfing
There are two 9 hole golf courses within a radius of 30 km.
Near the picturesque St Martin-le-Redon there is a 9-hole golf course (Le Neuf Golf de Bouysset) of over 2 km on a 15 hectare estate. The course is a challenging 'par 32 course' with bunkers, hills and water features. Thanks to the artificial turf you can play there all year round without any problems. It has Dutch owners.
In Sauveterre-la-Lemance there's another golf course (Golf des Roucous) of more than 5 km. This challenging 9-hole par 70 course is set on beuatiful, hilly terrain with woodland, water features and interesting elevation changes. 
Karting
You can go karting in the karting of Caudecoste, near Agen or in Kathors near Cahors. Ideal for a remarkable group activity! However, do not forget to make a reservation.