The spacious, yet cosy house, is fully equipped with every comfort. A large kitchen dining room, a lounge, 3 bathrooms, 3 separate toilets and 7 bedrooms.  The bedrooms (6 upstairs and 1 downstairs) have air conditioning.
Wifi is available, as well as ample baby and toddler equipment (cots, bath, changing mat, playpen and high chairs).
The kitchen and dining room
Through the vine-covered terrace, which offers you a beautiful view of Saint-Matré, you enter the spacious kitchen and dining room with its large fireplace. You can prepare delicious meals in the open kitchen after which you can eat and drink together at the long table in the dining room or move to one of the terraces. 
The kitchen is equipped with the necessary kitchen appliances: electric hot plates and oven (80 cm), a microwave oven, a dishwasher, a combi fridge/ freezer, coffee makers, a kettle, a mixer … Moreover, upon arrival, you will have a fridge stocked with everything you need for the first evening. This way you can be at ease while taking up residence in Monplaisir.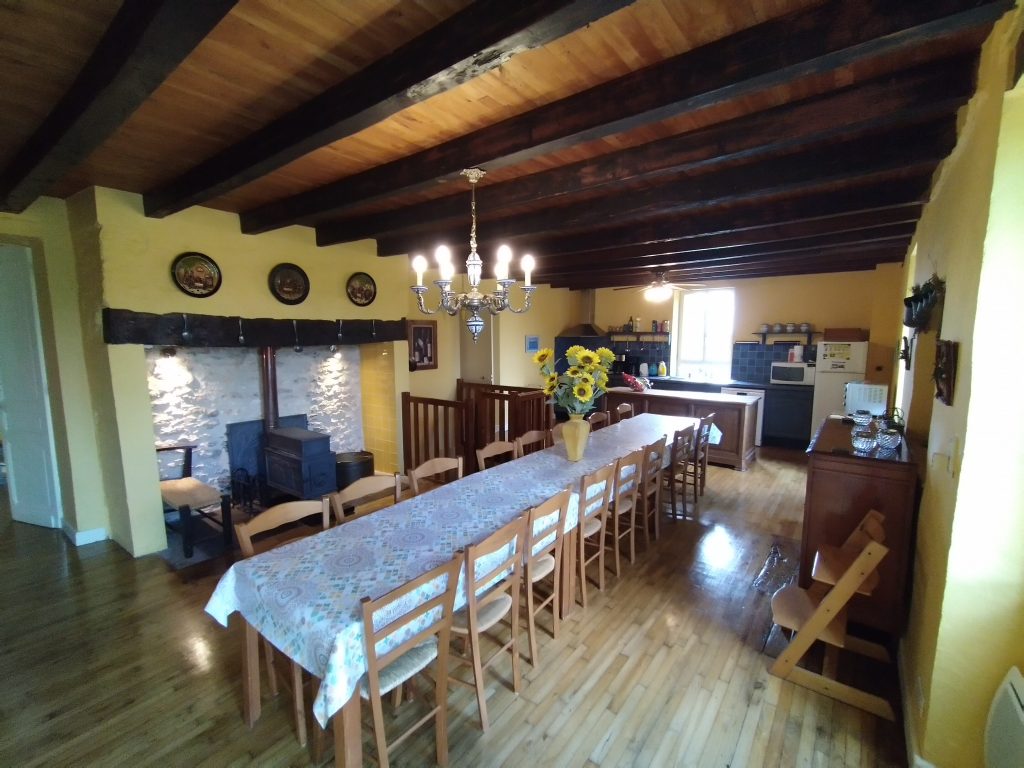 There are 7 bedrooms in the house: 6 on the upper floor and 1 on the lower floor. There are 6 rooms for two people and 1 room for three people. All beds are made when you arrive and bath towels are also provided.  Please bring your own poolside towels.
Three baby beds (including sheets and towels) are available for the little ones on request. 
This way you can dream peacefully.
Sleep tight!
There are 3 bathrooms in the house (two upstairs with a shower and a washbasin and one on the ground floor with a bath/shower and a washbasin). Additionally there are three separate toilets. 
You will find a cozy television corner with a television and DVD payer in the small lounge. Here you can watch television, put on a DVD or read a book or magazine undisturbed.
In this larger lounge you can quietly read a book on the sofa or play a board game at the table. Feel free to browse the cabinet filled with books and games. A lot of maps and tourist information about the region are also available here.
This lounge opens onto the "west terrace" where you can have breakfast or enjoy an unforgettable sunset in the evening. 
When you enter the gate at the bottom of the entrance stairs you step into the former wine cellar. Presently it's furnished as a storage space. This way you can put any bicycles you have brought inside or have suitcases and shoes of the entire group out of the way.
There's a washing machine available, as well as an extra refrigerator. You can also play some table football.